Sacramento Tent City – 2009
Peter Duke and I arrived in Sacramento California with one contact that was given to us by a friend. Her name was Susan and she was one of the main volunteers at "Tent City." She turned out to be an angel. Susan guided us throughout our four day photo shoot, showing us the places most populated by homeless, whom we now call our friends. The photos were captured in a warehousing district outside of downtown, located behind "Tent City". All of the people who participated in being photographed, each had a unique story. The recent homeless shared a common theme of losing a job and home, then suddenly found themselves going between shelters, sleeping in the family car and in tents.
Tent city, as we were told by Luis Morales, self-appointed "Mayor" of Tent City, has been there for several years. The face (residents) of "Tent City" was changing because of the economy and loss of jobs, making Sacramento one of the hardest hit cities in California. A good portion of the men with families who we spoke with or photographed had previously worked in construction.
Some of our mothers were photographed without husbands because their spouse was either out job hunting or they didn't want to be labeled as "homeless," and hurt their chances of getting a job in the future. We had brought flats of water that we broke open and handed out to whomever wanted water over the course of the shoot. The droves of people that the water attracted and the level of gratitude for the water was inspiring.
The families were open and shared why they chose to avoid shelters and sleep in tents. We learned that men and women were separated from each other, as the shelters were situated in different places; the children stayed with their mothers, and pets were not allowed. In an attempt to avoid the pains of fathers being separated from their wives and children, many opted for the harsher circumstances and stayed in tents. At the end of our first day of shooting, Peter cleverly suggested that we buy a laser printer and give photographs to our new friends.
What I observed throughout our shoot in Sacramento was that the homeless people we photographed were not used to being "seen" or "witnessed." They are by and large ignored and therefore invisible. I noticed it was easier to talk on a personal level when I asked about the person in the picture and used the person in the photo as the subject that the homeless person could speak on behalf of. Talking about their hopes, dreams and how they found faith became fluid and easily accessible.
Peter and I agreed as we edited the photos that we had never seen such soulful eyes. We were witness to a tremendous amount of love, camaraderie and playfulness as was expressed amongst our new friends both on and off camera.
Steven, What are your dreams for yourself? I Asked. "Dreams? I don't have any dreams
On our second day we photographed more people and families and were delighted to give the prints to the people who were photographed. The feedback and reactions as they looked at the prints and studied their faces, was moving and fascinating. I approached 23 year old Steven after noticing him quietly observing his photo. I asked him if he liked it. Sounding deeply conflicted he said "Yes," without breaking his visual hold on his image. "You look like a movie star," I said. He gave a sad laugh, finally lifted his eyes and looked at me. "Steven, what are your dreams for yourself?" I asked. "Dreams? I don't have any dreams." I took his photograph and asked pointing to the picture, "What is your dream for him? What do you see when you look at the guy in the picture?" His eyes moistened, his mouth dried and he nervously laughed and repeated my question. "What do I see when I look at him? I see a man with pride, I see a man who could be somebody." We talked about what he wanted to accomplish in his life, if it were a perfect world and he could do anything that he wanted, if he had a roof over his head or if he had money in his pocket. He said he "wanted a family, to make money and have a wife." He shared with me how difficult living in a tent is, how over time it "beats you up," and that at night it is especially difficult.
Another woman said, "When you are homeless you don't have mirrors to see yourself, sometimes I cant remember what I look like." I asked her the same question regarding what she saw when she looked at her picture? She said, "A beautiful lady, I look so beautiful." She was tremendously grateful.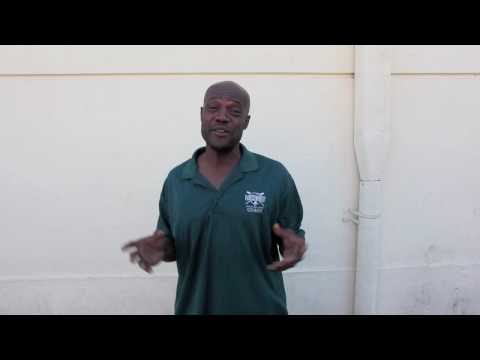 There was one young man who had the nick-name "The Giver," because everything that was given him or that he got at a shelter he would then give away to the homeless who were older, more feeble or in some way worse off than he was. He kept nothing for himself; he said "it was a bad habit of his."
Throughout our shoot, there were countless times that we saw the same people over and over, whether they were passing on their way to eat, on their way to Friendship Park or going to a job interview. As a friend passed, they often filled us in as to what they were up to. When I wished those going on a job interview "good luck," a common theme emerged. Each and every time the person would stop and deliberately correct me by saying "luck has nothing to do with anything." It is about working hard and keeping the faith they said. No luck, just hard work and faith. Words of wisdom!
Check out the campaign Slide Show to see some of the final images.
– Elena Davis